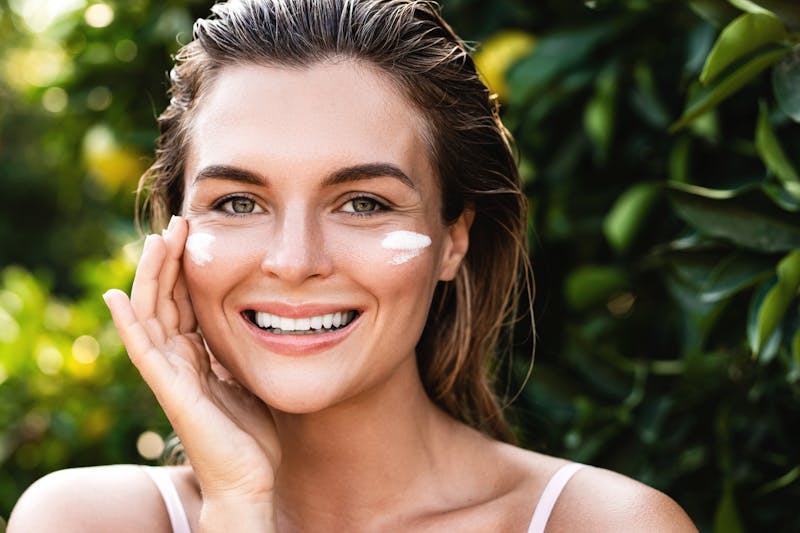 With summer just around the corner, and May not only being Skin Cancer Awareness Month, but May 27th also being National Sunscreen Day, there is no better time to talk about the need to protect your skin!
How Can You Protect Yourself?
Wear Sunscreen. Make sunscreen a daily habit. UV radiation can damage skin even in the winter and on cloudy days. Use a broad-spectrum sunscreen that protects against UVA and UVB rays with 30+ SPF. We recommend those containing zinc from brands such as ZO Skin Health and IsClinical. If you have tan lines you are either using the wrong sunscreen and/or you are not reapplying.
Sunscreen Fun Facts!
Sunscreen does not cause Vitamin D deficiency.

Sunscreen is still necessary on cloudy days.

UVB rays mostly cause sunburn and are filtered by windows.

UVA rays mostly cause wrinkles, sagging and aging. They are NOT filtered through windows (think about driving in the car!) and are found in fluorescent lights everywhere.

SPF numbers ONLY apply to protection against UVB rays. SPF 30 keeps out 97% of those.

Physical sunscreens are effective immediately after application

Chemical sunscreens take about 20 minutes to take effect but require less product for adequate protection. These are a thinner liquid that leaves a matte finish making them ideal for acne-prone or oily skin.

Physical blocks are safer for the environment than chemical sunscreens and less irritating to sensitive skin.

Physical sunscreens work because zinc oxide and titanium dioxide form a barrier against the sun's rays. They work longer in direct sunlight but can rub or wash off easily, so they need to be reapplied more often.
Wear Protective Clothing. Wear hats, long sleeved shirts and sunglasses to protect your skin from UVA and UVB rays.
Avoid Peak Rays. Seek shade during mid-day when the sun's rays are most intense.
Don't Use Tanning Beds. Indoor tanning has been shown to increase the risk of melanoma by up to 75%. Melanoma is the number one new cancer diagnosed in young adults (ages 25-29), and scientists attribute this trend to the use of tanning beds among this age group.
Take NicoTInamide (Vitamin B3). According to a study in the New England Journal of Medicine, Vitamin B3 reduced the risk of squamous cell and basal cell carcinoma by 23%. Harvard Medical School recommends 500mg twice daily of nicotinamide to anyone with a history of these skin cancers or with a history of extensive skin damage due to sun exposure.
See Your Dermatologist. Do annual skin exams for any skin changes.
Educate Yourself About Melanoma. Melanoma is one of the most common cancers diagnosed in the United States and the deadliest form of skin cancer. Rates of melanoma are rising rapidly, and have tripled in the last 30 years, at a time when cancer rates for other common cancers have declined.
When caught early, melanoma is highly curable. And while treatments for late-stage melanoma are improving rapidly, the survival rates are still low. That's why taking steps to prevent melanoma and identify it early are key.
Early Melanoma Detection: What You Can Do
Early detection is the best way to treat melanoma. Here are some steps you can take to help identify early warning signs:
Know your skin and examine it regularly. Recognizing changes in the skin is the best way to detect melanoma early. Add monthly skin checks to your routine.

Melanoma risk factors include fair skin, red or blonde hair, more than 50 moles, history of sunburn or UV exposure, family history of skin cancer, and light eyes.

Use the ABCDE system as a guide to watch for melanoma:


A

– Asymmetry, moles with irregular borders


B

– Blurry or jagged edged moles


C

– Color, uneven mole color


D

– Diameter of a mole is more than a pencil eraser


E

– Evolution, recent change to a mole



Early detection saves lives and here at Modern Women's Health, we want to help ensure you stay out ahead of skin cancer. At your annual exam we assess your skin and recommend you see your dermatologist annually for skin exams. The second most common area for melanoma outside of sun exposed areas is the vulva, so we ensure this is checked during your annual exams with us. Request an appointment today to schedule your annual exam! Call us at (512) 301-6767 or click the link below.
REQUEST AN APPOINTMENT