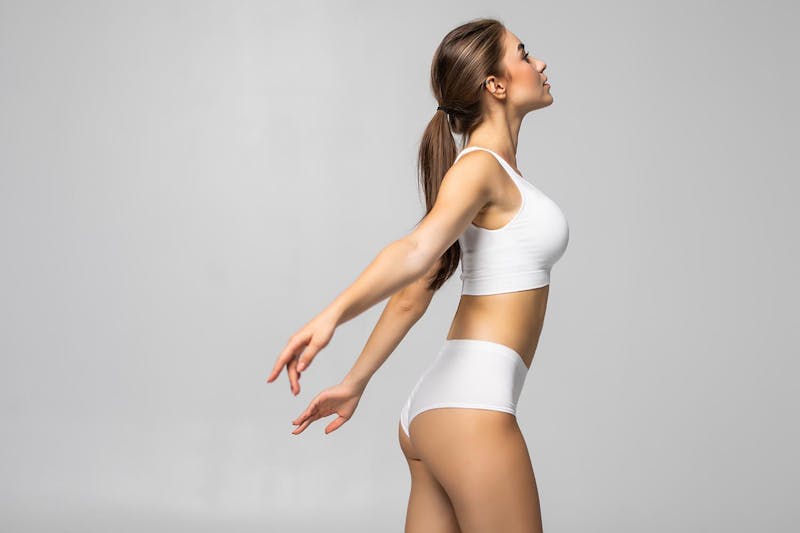 Aubrey Houchin, RN Aesthetician
Whether or not you care to admit it, there is no denying that non-surgical cosmetic procedures are becoming increasingly popular for a good reason. As ZOOM calls have become a new normal in this work-from-home (WFH) pandemic atmosphere, we are all now quite familiar with how unflattering that screen can be. Additionally, the WFH life has removed the need for most of us to get dressed up for work every day and that seems to be playing a role in motivation also, hence the sedentary lifestyle is on the rise. As the world is experiencing life-altering changes due to the Covid-19 pandemic, the Elsevier Public Emergency Collection refers to this novel time as a tale of two pandemics. This significant increase in sedentary lifestyles will ultimately affect health overall.
The good news is that the body contouring industry is ever-changing and advancing and has made tremendous strides. Each year there are new options available that enable people just like you to get their dream body. These treatments are perfect to target a WFH lifestyle and related body issues.
When people come in to get body contouring procedures, they are getting great outcomes and are often motivated to get back to a healthier lifestyle. With so many options available, it's hard to know what to do or what would work best for you. We thought it would be helpful to give some insight on what we offer at Modern Women's Health, so you know what the hype is about.
Warmsculpting by Sculpsure is a convenient body contouring treatment that can be done in the office in under an hour and doesn't even disrupt the skin's surface. So, you can, quite literally, get it done over your lunch break and your coworkers will never be the wiser. It was FDA-approved in 2017 and developed by Cynosure, Inc. The laser used in a SculpSure treatment causes a process that's called apoptosis, which gently heats up fat cells and shrinks them so they can be expelled through the body's lymphatic system as waste. In the weeks after your treatment, you'll see a permanent reduction in those persistent, unwanted pockets of body fat. It is meant for people who are in relatively good shape that want some help 'melting' a little extra fat.
We also have the Evolve Platform by InMode which is the only FDA-approved, hands-free, non-surgical treatment for skin and subdermal fat and muscle tone improvement. Evolve uses unique bipolar technology for delivering radio-frequency energy and electromagnetic pulses, remodels even larger body areas, and improves the appearance of your skin, and enhances muscle tone. This platform is broken down into three proprietary treatments: Tite, Tone, and Trim.
Evolve Tite is ideal for individuals who are looking for a non-invasive skin treatment to address specific body areas that require remodeling including customizable skin firming and fat reduction.
Evolve Tone is a non-invasive hands-free, muscle toning treatment that is ideal for patients looking to tone muscles and address areas that require definition with zero downtime.
Evolve Trim is a hands-free, non-invasive solution designed specifically to reduce fat and cellulite.
Morpheus8 Body is our newest offering and is a subdermal adipose remodeling device that fractionally remodels and contours the body. We have been treating the face with Morpheus8 for years with great success, and now we have a Morpheus8 for the body too! Penetrating deep into the skin and fat, this radiofrequency treatment morphs the aging body into a more desired, smooth, and sleek appearance, for all skin tones. Morpheus8 is the first and only device to mold the fat subdermally and treat the skin also, making it unique. This means we can non-invasively treat stretch marks, fat pockets, and lax skin more aggressively to get better outcomes without scars or incisions.
These innovative non-invasive solutions can be done alone or in combination for best results, to target multiple issues at once. All are quick and easy alternatives to surgery or liposuction to reshape your body.